Paul Mauriat - Classics In The Air [2CD] (1997)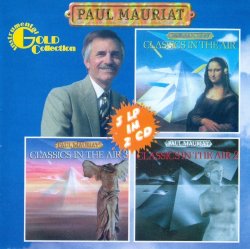 Performer: Paul Mauriat
Album: Classics In The Air
Label: Phonogram
Catalog #: PG 900
Style: New Age, Modern Classical, Experimental
Year: 1997
Format: FLAC (image + .cue)
Bitrate: lossless
Covers: in archive
Amount of tracks: 35
Size ZIP: ~ 728 mb
Upload: nitroflare.com
Password: without a password





Tracklist:
-----------------
CD1


01.

Bach-Toccata and Fugue in DM

[4:37]




02.

Pachelbel-Canon

[3:44]




03.

Beethoven-Symphony №9 (Choral)

[4:04]




04.

Rossini-La Gazza Ladra (Overture)

[4:31]




05.

Liszt-Liebestraum №3

[4:16]




06.

Rossini-The Barber of seville (Overture)

[5:15]




07.

Verdi-La Traviata (Prelude)

[2:17]




08.

Bach-Preludie in C

[2:32]




09.

Mozart-Symphony №40 (Minuet)

[4:17]




10.

Beethoven-Mooonlight Sonata

[3:57]




11.

Brahms-Hungarian Dance №5

[2:52]




12.

Beethoven-Sonata 'Pathetique'

[3:32]




13.

Liszt-Hungarian Rapsody №2

[4:27]




14.

Mozart-Zaide (solo Danielle Licari)

[3:24]




15.

Bizet-Carmen (Habanera)

[3:20]




16.

Bach-Aria

[3:34]




17.

Beethoven-Symphony №5

[2:53]




18.

Rossini-Semiramide (Overture)

[4:29]




19.

Mozart-Canzona

[2:23]


--------------------------
Total time [01:10:25]

CD2


01.

Mozart The Mariage of Figaro

[2:57]




02.

Brahms Symphony №3

[3:18]




03.

Offenbach Barcarolle

[3:04]




04.

Bach Badinerie

[1:24]




05.

Bizet Carmen (Mediey)

[3:08]




06.

Schubert Ave Maria

[4:16]




07.

Mozart Symphony №40

[3:17]




08.

Bach Cantata №147

[2:58]




09.

Rubinstein Melody

[3:03]




10.

Grieg Anitra's Dance

[3:18]




11.

Vivaldi The Spring, The Four Seasons

[3:31]




12.

Giazotto/Alb Albinoni's Adagio

[3:34]




13.

Sarasate Zigeunerweisen

[3:17]




14.

Dvorak Humoresque

[2:34]




15.

Chopin Etude in E

[3:25]




16.

Albeniz Preludie

[3:47]


--------------------------
Total time [00:50:50]


"Log EAC"
"Log Audiochecker"
--NitroFlare.com--
Скачать CD | Download CD
Attention!
Carmen McRae - Jazz Classics (1993)
Performer: Carmen McRae Album: Jazz Classics Label: Aurophon. Made in DE. Catalog #: CD AU 36004 Style: Jazz Year: 1993 Format: FLAC (image + .cue) Bitrate: lossless Covers: full (600 DPI) Amount of tracks: 12 Size ZIP: ~ 309 mb Upload: nitroflare.com Password: without a password ...
Paul Mauriat - El Bimbo (1975)
Performer: Paul Mauriat Album: El Bimbo Label: Philips. Made in EU. Catalog #: 6325 171 Style: Instrumental, Easy Listening Year: 1975 Format: FLAC (image + .cue) Bitrate: lossless Covers: in archive Amount of tracks: 15 Size ZIP: ~ 290 mb Upload: letitbit.net Password: without a ...
Related Articles:
Dear visitor, you went to the site as unregistered user. We do not insist, but encourage you to register or enter the site under your name.
All material on this site is intended only for personal use and informational purposes only.
Once you become familiar with the materials downloaded, you agree to remove it and buy a legal copy.
Information
Users of Guests are not allowed to comment this publication.