The Prodigy - Invaders Must Die [Japan] (2009)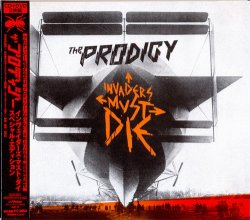 Performer: The Prodigy
Album: Invaders Must Die
Label: Victor Entertainment. Made in JP.
Catalog #: VIZP-75
Style: Breaks, Big Beat
Year: 2009
Format: FLAC (image + .cue)
Bitrate: lossless
Covers: in archive
Amount of tracks: 13
Size ZIP: ~ 412 mb
Upload: nitroflare.com
Password: without a password



Tracklist:
-----------------


01.

The Prodigy - Invaders Must Die

[4:55]




02.

The Prodigy - Omen

[3:36]




03.

The Prodigy - Thunder

[4:09]




04.

The Prodigy - Colours

[3:28]




05.

The Prodigy - Take Me To The Hospital

[3:40]




06.

The Prodigy - Warrior's Dance

[5:13]




07.

The Prodigy - Run With The Wolves

[4:25]




08.

The Prodigy - Omen Reprise

[2:14]




09.

The Prodigy - World's On Fire

[4:50]




10.

The Prodigy - Piranha

[4:05]




11.

The Prodigy - Stand Up

[5:30]




12.

The Prodigy - Black Smoke

[3:28]




13.

The Prodigy - Fighter Beat

[3:34]


--------------------------
Total time [00:53:07]

Notes:
-----------------------
DVD includes HD video for Invaders Must Die in Quicktime and Windows Media Video formats.

Original front cover photo taken from Collier's Photographic History of the European War (Published by P.F. Collier & Son, New York, 1916)

Thunder contains recreated elements from 'Ethiopian Peace Song' aka 'Rasta Peace Song' written by Trevor Joe. Published by JAMREC (BMI) administered by Happy Valley Music. Used by permission.
Take Me To The Hospital contains a sample of 'Salami Fever' (Salo/Malmstrom) by Pepe Deluxé courtesy of Catskills Records Limited. Published by Catskills Music Publishing Ltd. Used by permission.
Contains a sample of 'Ragamuffin Duo Take Charge' (Pixley/Needham) by Asher D & Daddy Freddy from the album The Hustlers Convention by courtesy of Music of Life Limited. Used by permission.
Warrior's Dance contains a sample of 'Take Me Away' (Grace/Mills/Srock) by Final Cut with True Faith by courtesy of Final Cut Productions. Published by Sherlock Holmes Music Ltd/Chelsea Music Publishing Co Ltd/Incentive Music/Bucks Music. Used by permission.
Run With The Wolves contains a sample of 'So Refined' by Senser, used by courtesy of Imprint Music Ltd. Used by permission.
Dave Grohl appears courtesy of Roswell/RCA Records.
World's On Fire contains a sample of 'Vamp' (Salon) by Outlander supplied courtesy of R&S Records Limited. Published by R&S Music/Strictly Confidential (UK) Ltd/Copyright Control.
Contains a sample 'I Just Wanna Get Along' (Deal) by The Breeders, licensed courtesy of 4AD Limited - www.4AD.com
Copyright Control. Used by permission.
Piranha contains a sample of 'Troubled Mind' (Childish) by The Buff Medways by courtesy of Damaged Goods Records Limited. Published by Mute Song. Used by permission.
Usage of sample of original soundtrack 'Sara Zamana' (Roshan/Anjaan) by Kishore Kumar and Chorus under approval from Universal Music India Pvt. Ltd. Published by Universal Music India/Universal Music Publishing Ltd. Used by permission.
Stand Up use of 'One Way Glass' (Mann/Thomas) by Manfred Mann's Earth Band by courtesy of Creature Music Limited www.manfredmann.com. Published by Carlin Music Corp/Tarot Music Ltd. Used by Permission.
Dave Grohl appears courtesy of Roswell/RCA Records.

(p) & (c) 2009 Take Me To The Hospital under exclusive license to Cooking Vinyl Ltd.
Manufactured and distributed by Victor Entertainment, INC. Japan Stereo JASRAC.

Contains book with info and lirycs (English & Japanese).
Contains stickers.
CD and DVD placed in additional plastic sleeve.

DVD region: 2
DVD format: 16:9


"Log EAC"
"Log Audiochecker"
--NitroFlare.com--
Скачать CD | Download CD
Attention!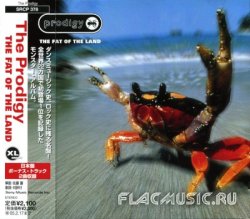 The Prodigy - The Fat Of The Land [Japan] (1997)
Performer: The Prodigy Album: The Fat Of The Land Label: Sony Music Records Catalog #: SRCP 378 Style: Breakbeat, Leftfield, Breaks, Big Beat Year: 1997 Format: FLAC (image + .cue) Bitrate: lossless Covers: in archive Amount of tracks: 12 Size ZIP: ~ 507 mb Upload: nitroflare.com ...
Related Articles:
Dear visitor, you went to the site as unregistered user. We do not insist, but encourage you to register or enter the site under your name.
All material on this site is intended only for personal use and informational purposes only.
Once you become familiar with the materials downloaded, you agree to remove it and buy a legal copy.
Information
Users of Guests are not allowed to comment this publication.