Sabaton - Attero Dominatus (2006)
Performer: Sabaton
Album: Attero Dominatus
Label: Black Lodge Records. Made in Sweden.
Catalog #: BLOD 037CD
Style: Heavy Metal
Year: 2006
Format: FLAC (image + .cue)
Bitrate: Lossless
Covers: in archive
Amount of tracks: 09
Size RAR: ~ 337 mb
Upload: nitroflare.com
Recovery: 3%
Password: without a password





Второй студийный альбом пауэр-метал-группы Sabaton вышел 14 июля 2006 года, первый с клавишником Даниэлем Муром.


Tracklist:
-----------------


01.

Sabaton - Attero Dominatus

[3:45]




02.

Sabaton - Nuclear attack

[4:12]




03.

Sabaton - Rise of Evil

[8:21]




04.

Sabaton - In the Name of God

[4:08]




05.

Sabaton - We Burn

[2:57]




06.

Sabaton - Angels Calling

[5:59]




07.

Sabaton - Back in Control

[3:17]




08.

Sabaton - Light in the Black

[4:54]




09.

Sabaton - Metal Crьe

[3:42]


--------------------------
Total time [00:41:16.360]


"Log EAC"
"Log Audiochecker"
--NitroFlare.com--
Скачать CD | Download CD
Attention!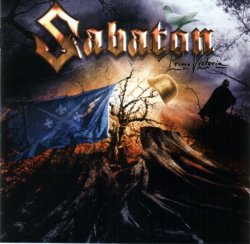 Sabaton - Primo Victoria (2005)
Performer: Sabaton Album: Primo Victoria Label: Black Lodge Records. Made in Sweden. Catalog #: BLOD 019CD Style: Heavy Metal Year: 2005 Format: FLAC (image + .cue) Bitrate: Lossless Covers: in archive Amount of tracks: 09 Size RAR: ~ 355 mb Upload: nitroflare.com Recovery: 3% Password: ...
Related Articles:
Dear visitor, you went to the site as unregistered user. We do not insist, but encourage you to register or enter the site under your name.
All material on this site is intended only for personal use and informational purposes only.
Once you become familiar with the materials downloaded, you agree to remove it and buy a legal copy.
Information
Users of Guests are not allowed to comment this publication.