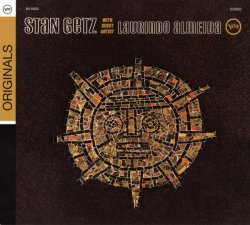 Performer:
Stan Getz
Album:
With Guest Artist Laurindo Almeida
Genre:
Jazz
Year:
1963 (2008)
Format:
FLAC (tracks + .cue)
Bitrate:
lossless
Covers:
in archive
Amount of tracks:
6
Size ZIP:
~ 216mb
Upload:
nitroflare.com
Password:
without a password
Three weeks after completing his meeting with Luiz Bonfa and only two days after the epochal Getz/Gilberto sessions, Stan Getz was back in the studio recording more bossa nova. Producer Creed Taylor was obviously striking while the iron was hot, getting in as many Brazilian sessions as he could, yet the quality of the music-making remained consistently marvelous. Continuing his practice of running through one star guitarist after another, this time Getz has Laurindo Almeida as the designated rhythm man, featured composer, and solo foil. The rhythm section is an authentically swinging mixture of American sidemen (including Steve Kuhn on piano and George Duvivier on bass) and Brazilian percussionists. Almeida didnТt like to improvise, so his solos stay close to the tunes, inflected with a perfectly matched feeling for the groove along with classical poise. JobimТs УOutra VezФ is a particularly lovely example of GetzТs freedom and effortless lyricism contrasted against AlmeidaТs anchored embroidering. Sessions like these might have been seen as cashing in on the boom at the time, yet in the long view, one should be thankful that these musicians were recording so much cherishable material.
Tracklist:
---------------------------
01. Minina Moca [Young Lady] (Antonio) 5:41
02. Once Again [Otra Vez] (Jobim) 6:42
03. Winter Moon (Almeida, Nelson) 5:21
04. Do What You Do, Do (Almeida, Taylor) 4:35
05. Samba Da Sahra [Sahra's Samba] (Almeida) 4:54
06. Maracatu-Too (Almeida, Getz) 5:00

"Log EAC"

"Audiochecker"
--NitroFlare.com--
Скачать | Download