Максим Фадеев группа Конвой - Танцуй на битом стекле (1992) [Vinyl Rip 24bit/96kHz]
28-11-2017, 15:48 
Sloway
3 511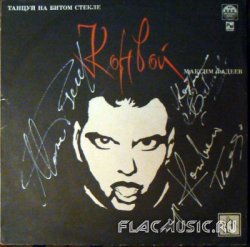 Performer: Максим Фадеев Группа "Конвой"
Album: Танцуй на битом стекле
Label: "POLYMIX". Made in RU.
Catalog #: R60 01201, R60 01202
Style: Alternative
Year: 1992
DMM "TELDEC" Technology
Bitrate Vinyl Rip: 24bit/96kHz Stereo
Format: FLAC (Same as Input)
Covers: in archive
Amount of tracks: 11
Size ZIP: ~ 832 mb
Upload: nitroflare.com
Password: without a password




Tracklist:
---------------------------
Side A:
01. Время диких зверей (М. Фадеев)
02. Иди на свет (М. Фадеев)
03. Я возвратился из ада (М. Фадеев)
04. Кокаин (М. Фадеев)
05. Менуэт (Е. Поздняков)

Side B:
01. Танцуй на битом стекле* (М. Фадеев-А. Головин, М. Фадеев)
02. Иди (М. Фадеев)
03. Колыбельная (М. Фадеев-Г. Давидулина)
04. Белый дым (М. Фадеев)
05. Опера* (Е. Поздняков, М. Фадеев-А. Головин)
06. Кто ты? (М. Фадеев)
--------------------------
Playing time [00:41.35]

Белые автографы, их нет на обычном конверте.


"Used Equipment"
"Amplitude Frequency Spectrum"
--NitroFlare.com--
Cкачать LP | Download LP
All my publications
Related Articles:
Dear visitor, you went to the site as unregistered user. We do not insist, but encourage you to register or enter the site under your name.
All material on this site is intended only for personal use and informational purposes only.
Once you become familiar with the materials downloaded, you agree to remove it and buy a legal copy.
Information
Users of Guests are not allowed to comment this publication.