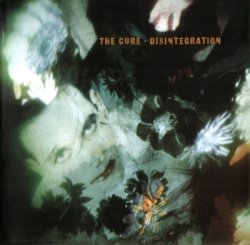 Performer:
The Cure
Album:
Disintegration
Label:
Fiction Records. Made in DE.
Catalog #:
839 353-2
Style:
Alternative Rock, New Wave, Goth Rock
Year:
1989
Format:
FLAC (image + .cue)
Bitrate:
lossless
Covers:
full (600 DPI)
Amount of tracks:
12
Size ZIP:
~ 464 mb
Upload:
nitroflare.com
Password:
without a password
Disintegration is the eighth studio album by English alternative rock band The Cure, released on 2 May 1989 by Fiction Records. The record marks a return to the introspective and gloomy gothic rock style the band had established in the early 1980s. As he neared the age of thirty, vocalist and guitarist Robert Smith had felt an increased pressure to follow up on the group's pop successes with a more enduring work. This, coupled with a distaste for the group's newfound popularity, caused Smith to lapse back into the use of hallucinogenic drugs, the effects of which had a strong influence on the production of the album. The Cure recorded Disintegration at Hookend Recording Studios in Checkendon, Oxfordshire, with co-producer David M. Allen from late 1988 to early 1989. During production, founding member Lol Tolhurst was fired from the band.
Tracklist:
-----------------
01.
The Cure - Plainsong
[5:16]
02.
The Cure - Pictures Of You
[7:29]
03.
The Cure - Closedown
[4:21]
04.
The Cure - Love Song
[3:30]
05.
The Cure - Last Dance
[4:47]
06.
The Cure - Lullaby
[4:13]
07.
The Cure - Fascination Street
[5:16]
08.
The Cure - Prayers For Rain
[6:08]
09.
The Cure - The Same Deep Water As You
[9:22]
10.
The Cure - Disintegration
[8:24]
11.
The Cure - Homesick
[7:09]
12.
The Cure - Untitled
[6:30]
--------------------------
Total time [01:12:25]

"Log EAC"

"Dynamic Range Meter"

"Log Audiochecker"
--NitroFlare.com--
Cкачать CD | Download CD