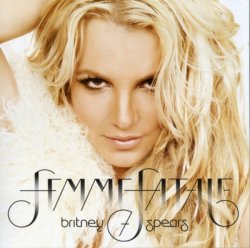 Performer:
Britney Spears
Album:
Femme Fatale
Label:
Jive Records RU
Catalog #:
88697-86726-2
Style:
Pop
Year:
2011
Format:
FLAC (image + .cue)
Bitrate:
lossless
Covers:
in archive
Amount of tracks:
12
Size ZIP:
~ 341 mb
Upload:
nitroflare.com
Password:
without a password
Femme Fatale is the seventh studio album recorded by American singer Britney Spears. It was released on March 25, 2011 through Jive Records and was her last album with the label before they shutdown later that year as she was moved to RCA Records. Musically, Spears wanted to make a "fresh-sounding" and "fierce dance album", thus incorporating dance-pop, electropop, EDM, and synth-pop styles with elements of dubstep, techno, and electro in its sound. Spears began working on the album during the second leg of her tour The Circus Starring Britney Spears (2009), while also contributing to her second greatest hits album The Singles Collection (2009). The singer collaborated with various producers on Femme Fatale, including Max Martin, Dr. Luke, William Orbit, Fraser T Smith, Rodney Jerkins, Bloodshy & Avant, will.i.am, and Stargate.
Tracklist:
-----------------
01.
Britney Spears - Till the World Ends
[3:58]
02.
Britney Spears - Hold It Against Me
[3:49]
03.
Britney Spears - Inside Out
[3:38]
04.
Britney Spears - I Wanna Go
[3:30]
05.
Britney Spears - How I Roll
[3:37]
06.
Britney Spears - (Drop Dead) Beautiful
[3:36]
07.
Britney Spears - Seal It with a Kiss
[3:26]
08.
Britney Spears - Big Fat Bass
[4:45]
09.
Britney Spears - Trouble for Me
[3:21]
10.
Britney Spears - Trip to Your Heart
[3:34]
11.
Britney Spears - Gasoline
[3:08]
12.
Britney Spears - Criminal
[3:45]
--------------------------
Total time [00:44:08]

"Log EAC"

"Log Audiochecker"
--NitroFlare.com--
Скачать CD | Download CD