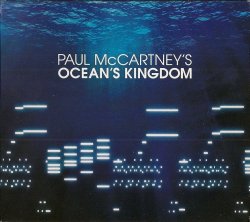 Performer:
Paul McCartney
Album:
Paul McCartney's Ocean's Kingdom
Label:
Decca. Made in DE.
Catalog #:
HRM-33250-02
Style:
Classical
Year:
2011
Format:
FLAC (image + .cue)
Bitrate:
lossless
Covers:
in archive
Amount of tracks:
4
Size ZIP:
~ 256 mb
Upload:
nitroflare.com
Password:
without a password
Ocean's Kingdom is the fifth classical album by Paul McCartney. It is the score from the same-titled ballet, commissioned by the New York City Ballet. The ballet tells of a love story based in two fantastic worlds - the "pure" ocean kingdom, and the Earth kingdom with its "sort of baddies" who threaten the underwater way of life. According to McCartney, love happens when earth meets water, and "you'll have to see whether the couple make it". His score for the ballet consists of four orchestral movements.
Tracklist:
-----------------
01.
Paul McCartney - Movement 1: Ocean?s Kingdom
[14:07]
02.
Paul McCartney - Movement 2: Hall of Dance
[16:19]
03.
Paul McCartney - Movement 3: Imprisonment
[13:37]
04.
Paul McCartney - Movement 4: Moonrise
[12:31]
--------------------------
Total time [00:56:35]

"Log EAC"

"Log Audiochecker"
--NitroFlare.com--
Скачать CD | Download CD