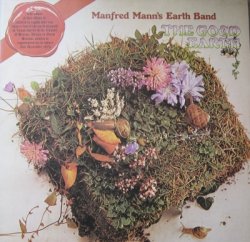 Performer:
Manfred Mann's Earth Band
Album:
The Good Earth
Label:
Bronze Records. Made in DE.
Catalog #:
28 780 XOT
Style:
Hard Rock, Prog Rock
Year:
1974
Bitrate Vinyl Rip:
24bit/96kHz Stereo
Format:
FLAC (image + .cue)
Covers:
in archive
Amount of tracks:
7
Size ZIP:
~ 720 mb
Upload:
nitroflare.com
Password:
without a password
The Good Earth is the fifth studio album released by Manfred Mann's Earth Band in 1974. Its opening song is a cover of "Give Me the Good Earth", written by Gary Wright and released on his 1971 solo album Footprint, while tracks 2 and 3 were originally by Australian progressive rock band Spectrum.
Early owners of each copy of The Good Earth were entitled to rights over 1 square foot of the earth situated at Llanerchyrfa in the County of Brecon, in Wales. The inner sleeve included a coupon that had to be sent for registration. This was part of the promotion activities linked to the album that had ecological inspirations. There was no swindle and thousands of fans were registered. Registration could be done on or before 31 December 1975.
Tracklist:
-----------------
01.
Gary Wright - Give Me The Good Earth
[8:24]
02.
Mike Rudd - Launching Place
[5:36]
03.
Mike Rudd - I'll Be Gone
[3:34]
04.
Mann, Slade - Earth Hymn
[6:11]
05.
Mann, Rogers - Sky High
[5:10]
06.
Rogers, Logue - Be Not Too Hard
[4:07]
07.
Mann, Slade - Earth Hymn Part 2
[4:08]
--------------------------
Total time [00:37:10]Notes:
-----------------------
(c) 1974 Bronze Records Ltd.
Im Ariola-Vertrieb
Printed in Western Germany by Mohndruck Reinhard Mohn OHG.Gütersloh
Originally released 1974 as cat.no 88 369 XOT.

"Used Equipment"

"Amplitude Frequency Spectrum"
--NitroFlare.com--
Скачать LP | Download LP