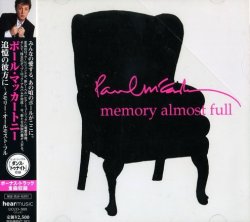 Performer:
Paul McCartney
Album:
Memory Almost Full
Label:
Universal. Made in Japan.
Catalog #:
UCCO-3001
Style:
Rock, Pop Rock
Year:
2007
Format:
FLAC (image + .cue)
Bitrate:
lossless
Covers:
in archive
Amount of tracks:
14
Size ZIP:
~ 335 mb
Upload:
nitroflare.com
Password:
without a password
Tracklist:
-----------------
01.
Paul McCartney - Dance Tonight
[2:55]
02.
Paul McCartney - Ever Present Past
[2:57]
03.
Paul McCartney - See Your Sunshine
[3:20]
04.
Paul McCartney - Only Mama Knows
[4:18]
05.
Paul McCartney - You Tell Me
[3:16]
06.
Paul McCartney - Mr Bellamy
[3:39]
07.
Paul McCartney - Gratitude
[3:19]
08.
Paul McCartney - Vintage Clothes
[2:22]
09.
Paul McCartney - That Was Me
[2:39]
10.
Paul McCartney - Feet In The Clouds
[3:24]
11.
Paul McCartney - House Of Wax
[4:59]
12.
Paul McCartney - The End Of The End
[2:57]
13.
Paul McCartney - Nod Your Head
[2:02]
14.
Paul McCartney - Why So Blue
[3:12]
--------------------------
Total time [00:45:20]Notes:
-----------------------
"Many years from now" must have seemed like an understatement to 16-year-old Paul McCartney, wondering if he'd still be needed or fed at the age of 64. As it turned out, all doubt as to the latter had ceased by his 22nd birthday (though few could have predicted he'd end up washing down those meals with the liquid pride of Seattle). As to the former? Now that McCartney, as of the date of this album's release, has reached that mythic age, his greatest work is 40 years behind him, his solo peak over 30 years gone. Does the world need a new Paul McCartney album? The answer is yes, at least as much as it needs anything else that passes for music these days. With Memory Almost Full, Macca is back. No, it's not Ram or Band on the Run. It might not even be Flowers in the Dirt--in 1989, he had a full band, the support of Linda, and Elvis Costello as a collaborator. Here, he's on his own. Literally: on the majority of the tracks, everything but the strings is multi-instrumentalist Paul. But the surprise is that it's one of his freest, loosest affairs in years, sonically reminiscent of the Tug of War/Pipes of Peace era with nods to Abbey Road in the album-closing medley, McCartney's gravelly tones on "Gratitude," and 2007's version of "Her Majesty," the palate-cleansing "Nod Your Head." It's a surprise because of the album's inescapable sense of retrospection ("Ever Present Past," "Vintage Clothes," "That Was Me") and even a bit of weariness. The next-to-last song is "The End of the End," after all, in which McCartney tells us about what he'd like to happen "on the day that I die." (He wants "songs that were sung/to be hung out like blankets/that lovers have played on/and laid on while listening to songs that were sung," and will likely get his wish.) But it never gets overwhelming, for McCartney mostly resists his tendency to get plodding and maudlin. In fact, Memory Almost Full must be the most sanguine album made during the dissolution of a marriage since...well, ever. "What went out is coming back," he sings in "Vintage Clothes," and from the sound of things, that may not be just wishful thinking. What's past is prologue; if we're lucky, what to come may be McCartney's late renaissance.

"Log EAC"

"Log Audiochecker"
--NitroFlare.com--
Скачать CD | Download CD