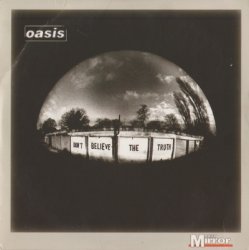 Performer:
Oasis
Album:
Don't Believe The Truth
Label:
Big Brother. Made in UK.
Catalog #:
none
Style:
Alternative Rock, Brit Pop
Year:
2005
Format:
FLAC (image + .cue)
Bitrate:
lossless
Covers:
in archive
Amount of tracks:
4
Size ZIP:
~ 397 mb
Upload:
nitroflare.com
Password:
without a password
Don't Believe the Truth is the sixth studio album by English rock band Oasis, released on 30 May 2005 through Big Brother Records. It reached number one in the UK Albums Chart with first week sales of just under 238,000, and is the 32nd fastest selling album ever in the UK. The album entered the US charts at number 12, with 65,000 copies sold in the first week, the highest any Oasis album had reached there since 1997's Be Here Now, although its chart stay was brief. Don't Believe the Truth went triple platinum in the UK in the first week of 2006 (900,000+ sales), and in the US has sold more than 200,000 copies.
Tracklist:
-----------------
01.
Oasis - Rock N Roll Star (Live)
[4:56]
02.
Oasis - Rockin Chair
[4:39]
03.
Oasis - Up In The Sky (Live)
[4:30]
04.
Oasis - Little By Little (Live)
[4:38]
--------------------------
Total time [00:18:43]

"Log EAC"

"Dynamic Range Meter"

"Log Audiochecker"
--NitroFlare.com--
Cкачать CD | Download CD