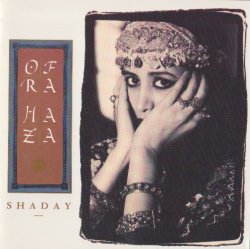 Performer:
Ofra Haza
Album:
Shaday
Label:
Teldec. Made in CA.
Catalog #:
CD 43845
Style:
Folk, World, Pop, Rock
Year:
1988
Format:
FLAC (image + .cue)
Bitrate:
lossless
Covers:
full (300 DPI)
Amount of tracks:
9
Size ZIP:
~ 250 mb
Upload:
nitroflare.com
Password:
without a password
Shaday is an album by Israeli singer Ofra Haza, released in 1988. Shaday, recorded both in Tel Aviv and England, became Haza's international breakthrough album and includes the Hebrew-English language remix singles "Im Nin'alu" and "Galbi," as well as "Shaday" and "Da'Ale Da'Ale," also released as remix singles. The name of the album is a somewhat controversial double entendre, meaning one of the acronyms for Yahweh but also a Modern Hebrew translation for "my breasts".
Tracklist:
-----------------
01.
Ofra Haza - Im Nin' Alu
[3:33]
02.
Ofra Haza - Eshal
[3:58]
03.
Ofra Haza - Da' Ale Da' Ale
[3:27]
04.
Ofra Haza - My Aching Heart
[5:50]
05.
Ofra Haza - Love Song
[2:27]
06.
Ofra Haza - Galbi
[3:17]
07.
Ofra Haza - Face To Face
[4:53]
08.
Ofra Haza - Take Me To Paradise
[4:52]
09.
Ofra Haza - Shaday
[5:40]
--------------------------
Total time [00:37:58]

"Log EAC"

"Dynamic Range Meter"

"Log Audiochecker"
--NitroFlare.com--
Скачать CD | Download CD