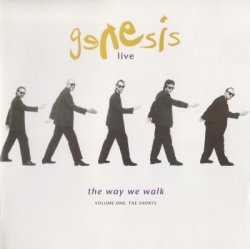 Performer:
Genesis
Album:
Live - The Way We Walk Volume One - The Shorts
Label:
Virgin. Made in EU.
Catalog #:
GEN CD 4
Style:
Rock
Year:
1992
Format:
FLAC (image + .cue)
Bitrate:
lossless
Covers:
full (600 DPI)
Amount of tracks:
11
Size ZIP:
~ 497 mb
Upload:
nitroflare.com
Password:
without a password
Instead of releasing the live document of the We Can't Dance tour as a double CD, Genesis, or some clever record executive, decided to split the material into two separate releases. The first would focus on the group's pop singles, while the second would contain their longer, more progressive work. Done this way, it's difficult to get a sense of the concert's momentum: Even the songs on each disc are shuffled from their original live order. For what it's worth, Volume One: The Shorts contains almost all the Genesis singles from 1983-1992. The band rarely stray from the studio versions of their material, and with the audience barely audible and a greatest hits collection released in 1999, the record is superfluous for all but the most die-hard fans.
Tracklist:
-----------------
01.
Genesis - Land Of Confusion
[5:17]
02.
Genesis - No Son Of Mine
[7:05]
03.
Genesis - Jesus He Knows Me
[5:23]
04.
Genesis - Throwing It All Away
[6:02]
05.
Genesis - I Can't Dance
[6:55]
06.
Genesis - Mama
[6:51]
07.
Genesis - Hold On My Heart
[5:41]
08.
Genesis - That's All
[4:59]
09.
Genesis - In Too Deep
[5:36]
10.
Genesis - Tonight, Tonight, Tonight
[3:36]
11.
Genesis - Invisible Touch
[5:42]
--------------------------
Total time [01:03:07]

"Log EAC"

"Dynamic Range Meter"

"Log Audiochecker"
--NitroFlare.com--
Cкачать CD | Download CD