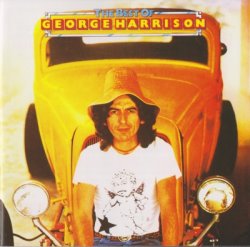 Performer:
George Harrison
Album:
The Best Of George Harrison
Label:
Capitol Records. Made in US.
Catalog #:
CDP 7 46682 2
Style:
Pop Rock, Classic Rock
Year:
1990
Format:
FLAC (image + .cue)
Bitrate:
lossless
Covers:
full (600 DPI)
Amount of tracks:
13
Size ZIP:
~ 310 mb
Upload:
nitroflare.com
Password:
without a password
The Best of George Harrison is a 1976 compilation album by English musician George Harrison, released following the expiration of his EMI-affiliated Apple Records contract. Uniquely among all of the four Beatles' solo releases (apart from live albums), it mixes a selection of the artist's Beatles-era songs on one side, with later hits recorded under his own name on the other.
The song selection caused some controversy, since it underplayed Harrison's solo achievements during the 1970–75 period, for much of which he had been viewed as the most successful ex-Beatle, artistically and commercially. Music critics have also noted the compilation's failure to provide a faithful picture of Harrison's contribution to the Beatles' work, due to the omission of any of his Indian music compositions. In a calculated move by EMI and its American subsidiary, Capitol Records, the compilation was issued during the same month as Harrison's debut on his Warner-distributed Dark Horse label, Thirty Three & 1/3.
Tracklist:
-----------------
01.
George Harrison - Something
[3:04]
02.
George Harrison - If I Needed Someone
[2:23]
03.
George Harrison - Here Comes The Sun
[3:08]
04.
George Harrison - Taxman
[2:38]
05.
George Harrison - Think For Yourself
[2:21]
06.
George Harrison - For You Blue
[2:33]
07.
George Harrison - While My Guitar Gently Weeps
[4:47]
08.
George Harrison - My Sweet Lord
[4:40]
09.
George Harrison - Give Me Love (Give Me Peace On Earth)
[3:37]
10.
George Harrison - You
[3:43]
11.
George Harrison - Bangla Desh
[3:59]
12.
George Harrison - Dark Horse
[3:55]
13.
George Harrison - What Is Life
[4:21]
--------------------------
Total time [00:45:08]Notes:
=====================
Originally released as an LP in 1976.

"Log EAC"

"Dynamic Range Meter"

"Log Audiochecker"
--NitroFlare.com--
Cкачать CD | Download CD