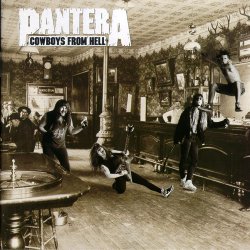 Performer:
Pantera
Album:
Cowboys From Hell
Label:
ATCO Records. Made in DE.
Catalog #:
7567-91372-2
Style:
Thrash, Speed Metal, Heavy Metal
Year:
1990
Format:
FLAC (image + .cue)
Bitrate:
lossless
Covers:
in archive
Amount of tracks:
12
Size ZIP:
~ 425 mb
Upload:
nitroflare.com
Password:
without a password
Cowboys from Hell is the fifth studio album by American heavy metal band Pantera, released on July 24, 1990 through Atco Records. It was the band's first commercially successful album, exposing their groove metal style to mainstream audiences. Cowboys from Hell is seen as Pantera's "official" debut by most fans, as well as the band itself as they left behind their glam metal past and began to focus on groove metal. After its release, a logo for the band was made featuring the letters 'CFH' (the abbreviation of the album title) in a circular design.
Tracklist:
-----------------
01.
Pantera - Cowboys From Hell
[4:07]
02.
Pantera - Primal Concrete Sledge
[2:13]
03.
Pantera - Psycho Holiday
[5:19]
04.
Pantera - Heresy
[4:47]
05.
Pantera - Cemetery Gates
[7:03]
06.
Pantera - Domination
[5:04]
07.
Pantera - Shattered
[3:22]
08.
Pantera - Clash With Reality
[5:17]
09.
Pantera - Medicine Man
[5:15]
10.
Pantera - Message in Blood
[5:10]
11.
Pantera - The Sleep
[5:47]
12.
Pantera - The Art of Shredding
[4:20]
--------------------------
Total time [00:57:44]Notes:
-----------------------
Recorded at Pantego Sound Studio, Pantego, Texas.
Mixed at The Carriage House, Stamford, Connecticut.
Mastered at Masterdisk, New York.

Front cover background photo: Bettman Archive.

Artwork appears the same as this release except for the distribution code on the back cover.

℗ © 1990 Atlantic Recording Corporation for the United States and WEA International Inc. for the world outside of the United States.

Made in Germany

"Log EAC"

"Dynamic Range Meter"

"Log Audiochecker"
--NitroFlare.com--
Cкачать CD | Download CD