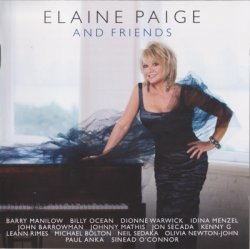 Performer:
Elaine Paige
Album:
Elaine Paige And Friends
Label:
Rhino Records. Made in UK.
Catalog #:
5249828742
Style:
Pop, Romantic
Year:
2010
Format:
FLAC (image + .cue)
Bitrate:
lossless
Covers:
full (600 DPI)
Amount of tracks:
13
Size ZIP:
~ 415 mb
Upload:
nitroflare.com
Password:
without a password
Elaine Paige and Friends is a duet album from Elaine Paige, released on November 1, 2010. Phil Ramone produced the album for Rhino/Warner Bros Records. The CD debuted on the UK Singles Chart at #18. Paige toured the UK in concert in support of the recording in the beginning of 2011. The CD sold "more than 100,000 units and earned Gold certification from the BPI", as of December 20, 2010.
Tracklist:
-----------------
01.
Elaine Paige - Mi Morena (Duet with Jon Secada)
[5:09]
02.
Elaine Paige - Take A Bow (Duet with Idina Menzel)
[5:14]
03.
Elaine Paige - The Prayer (Duet with Barry Manilow)
[4:23]
04.
Elaine Paige - Just The Way You Are (Duet with Paul Anka)
[5:32]
05.
Elaine Paige - Closest Thing To Crazy (Duet with LeAnn Rimes)
[4:11]
06.
Elaine Paige - Where Is The Love (Duet with John Barrowman)
[3:42]
07.
Elaine Paige - It's Only Life (Duet with Sinead O'Connor)
[4:12]
08.
Elaine Paige - You Are Everything (Duet with Billy Ocean)
[3:13]
09.
Elaine Paige - It Might Be You (Duet with Johnny Mathis)
[4:45]
10.
Elaine Paige - Amoureuse (Duet with Olivia Newton-John)
[4:08]
11.
Elaine Paige - Make It With You (Duet with Neil Sedaka)
[3:55]
12.
Elaine Paige - All The Way (Duet with Michael Bolton)
[3:36]
13.
Elaine Paige - Thank You For Being A Friend (Duet with Dionne Warwick)
[4:59]
--------------------------
Total time [00:56:58]

"Log EAC"

"Dynamic Range Meter"

"Log Audiochecker"
--NitroFlare.com--
Скачать CD | Download CD