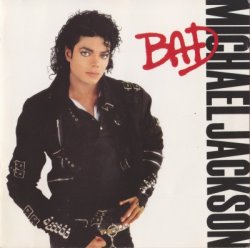 Performer:
Michael Jackson
Album:
Bad
Label:
Epic. Made in AT.
Catalog #:
450290 2
Style:
Pop
Year:
1987
Format:
FLAC (image + .cue)
Bitrate:
lossless
Covers:
full (600 DPI)
Amount of tracks:
11
Size ZIP:
~ 376 mb
Upload:
nitroflare.com
Password:
without a password
Bad is the seventh studio album by American singer and songwriter Michael Jackson. It was released on August 31, 1987 in the United States by Epic Records and internationally by CBS Records,[2] nearly five years after Jackson's previous solo studio album, Thriller. Bad was written and recorded over more than three and a half years, and was the final collaboration between Jackson and producer Quincy Jones. The lyrical themes include media bias, paranoia, racial profiling, romance, self-improvement and world peace.
Bad saw Jackson exercise more artistic freedom than his previous albums. He composed nine of its eleven tracks, and received co-producer credit for the entire album. Nine songs were released as singles, including one promotional single; seven charted in the top 20 on the Billboard Hot 100, including a record-breaking five number ones. The album reached number one in thirteen countries and the top 20 in other territories.
Tracklist:
-----------------
01.
Michael Jackson - Bad
[4:08]
02.
Michael Jackson - The Way You Make Me Feel
[4:58]
03.
Michael Jackson - Speed Demon
[3:59]
04.
Michael Jackson - Liberian Girl
[3:55]
05.
Michael Jackson - Just Good Friends
[4:07]
06.
Michael Jackson - Another Part Of Me
[3:55]
07.
Michael Jackson - Man In The Mirror
[5:19]
08.
Michael Jackson - I Just Can't Stop Loving You
[4:13]
09.
Michael Jackson - Dirty Diana
[4:41]
10.
Michael Jackson - Smooth Criminal
[4:19]
11.
Michael Jackson - Leave Me Alone
[4:40]
--------------------------
Total time [00:48:16]

"Log EAC"

"Dynamic Range Meter"

"Log Audiochecker"
--NitroFlare.com--
Cкачать CD | Download CD