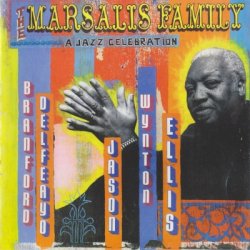 Performer:
The Marsalis Family
Album:
A Jazz Celebration
Label:
Астра. Made in UA.
Catalog #:
none
Style:
Jazz
Year:
2002
Format:
FLAC (image + .cue)
Bitrate:
lossless
Covers:
full (600 DPI)
Amount of tracks:
11
Size ZIP:
~ 436 mb
Upload:
nitroflare.com
Password:
without a password
In 1981, trumpeter Wynton Marsalis and saxophonist Branford Marsalis burst on the scene as the young lions who started a jazz renaissance. They were followed by their younger brothers, trombonist Delfeayo and drummer Jason. Incredible as it sounds, they've never recorded together as a family. On August 4, 2001, at the University of New Orleans, they performed with their father, the esteemed pianist and educator Ellis Marsalis in a concert that marked his retirement from the school's jazz department. Supported by bassist Roland Guerin, the family delivers a swinging live program of standards and original works in trio, quartet, and sextet combinations. The elder Marsalis's pristine pianism colors his midtempo tune "Swingin' at the Haven," while Jason Marsalis's Afro-tinged intro peppers the standard "The Surrey with the Fringe on Top." Wynton and Branford declare their brotherly love on the saxophonist's Ornette Coleman-esque "Cain and Abel." Actor-singer-pianist Harry Connick Jr. joins in on the fun with "Twelve's It" and "St. James Infirmary."
Tracklist:
-----------------
01.
The Marsalis Family - Swinging At The Haven
[6:57]
02.
The Marsalis Family - The Surrey With The Fringe On Top
[8:01]
03.
The Marsalis Family - Wynton Speaks
[0:29]
04.
The Marsalis Family - Cain And Abel
[6:14]
05.
The Marsalis Family - Nostalgic Impressions
[6:46]
06.
The Marsalis Family - After
[3:53]
07.
The Marsalis Family - Sultry Serenade
[5:15]
08.
The Marsalis Family - Twelve's It
[7:51]
09.
The Marsalis Family - Harry Speaks
[0:57]
10.
The Marsalis Family - Saint James Infirmary
[5:28]
11.
The Marsalis Family - Struttin' With Some Barbecue
[10:03]
--------------------------
Total time [01:01:54]

"Log EAC"

"Dynamic Range Meter"

"Log Audiochecker"
--NitroFlare.com--
Скачать CD | Download CD