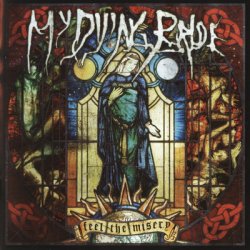 Performer:
My Dying Bride
Album:
Feel the Misery
Label:
Peaceville. Made in DE
Catalog #:
CDVILEF493
Style:
Doom Metal
Year:
2015
Format:
FLAC (image + .cue)
Bitrate:
lossless
Covers:
full (600 DPI)
Amount of tracks:
08
Size RAR:
~ 409 mb
Upload:
nitroflare.com
Recovery:
3%
Password:
without a password
Bring out the bottles and obsess over sad memories because My Dying Bride has returned with their thirteenth album, Feel the Misery. For 25 years, they have been the measuring stick in depressive doom metal, releasing one great album after another and influencing countless bands in both death/doom and gothic/doom genres along the way. And this new album continues this legacy and cements My Dying Bride's position at the top of their craft. D.O. played a very special sold out show, accompanied by a German navy orchestra (Marinemusikkorps Nordsee). The symphonic sound of the orchestra and the choir merged with the songs of U.D.O. and made the evening a unique unforgettable.
Tracklist:
-----------------
01.
And My Father Left Forever
[9:22]
02.
To Shiver In Empty Halls
[9:47]
03.
A Cold New Curse
[9:03]
04.
Feel The Misery
[6:21]
05.
A Thorn Of Wisdom
[5:05]
06.
I Celebrate Your Skin
[6:54]
07.
I Almost Loved You
[5:28]
08.
Within A Sleeping Forest
[10:43]
--------------------------
Total time [01:02:42]

"Log EAC"

"Log Audiochecker"
--Nitroflare.com--
Скачать CD | Download CD