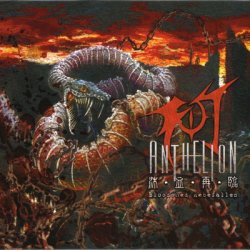 Performer:
Anthelion
Album:
Bloodshed Rebefallen
Label:
Ultimate Music. Made in TW
Catalog #:
Non
Style:
Simphonic Black Metal
Year:
2007
Format:
FLAC (image + .cue)
Bitrate:
lossless
Covers:
in archive
Amount of tracks:
10
Size RAR:
~ 489 mb
Upload:
nitroflare.com
Recovery:
3%
Password:
without a password
The Asian metal scene has been gaining a lot of attention and recognition around the world, that´s the reason why I will talk about this band, Anthelion. I discovered this band because of Chthonic, from Taiwan too, I like both bands.
This is their first full-length album released in 2007 and released by Ultimate Music.
The sound is very similar to bands like COF, Emperor, Dimmu Borgir, Carach Angren, they combine heavy parts with some symphonic parts, piano, synths with and heavy guitar riffs. I like the work of Zeist in this album, scales, some tremolo picking and melodic parts, Ken made a great work with the sound of the bass, you can hear some great riffs out of it, it´s great because sometimes the bass just pass unnoticed in other BM bands, the voice of Code is very mature, it gives a dark ambient to the songs, in some parts he screams and in other parts he growls, great combination, and Troy made a great work with the drums, blast beats, great breakdowns, double pedal parts, everything fit so good.
In resume, they have a great proposal, an unique and original sound, if you like symphonic black metal this is it, listen to them you won´t be disappointed.
Tracklist:
-----------------
01.
Snake Corpse
[9:34]
02.
Sin of Aeon
[1:06]
03.
Without Trepidation
[1:21]
04.
Grave Ocean
[7:08]
05.
Bloody Matrimony
[5:54]
06.
Hibernation Glaciation Exuviation
[7:14]
07.
Bloodshed in the Dark of Burning Hell
[7:40]
08.
The Tome of Broken Souls
[6:38]
09.
The Evil Adversary
[5:20]
10.
Annihilated Be My Name (Bonus Track)
[2:31]
--------------------------
Total time [00:54:27]

"Log EAC"

"Log Audiochecker"
--Nitroflare.com--
Скачать CD | Download CD