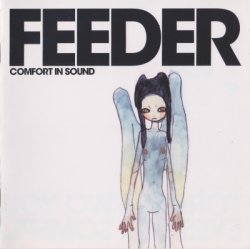 Performer:
Feeder
Album:
Comfort In Sound
Label:
Echo. Made in UK.
Catalog #:
ECHCD43
Style:
Indie Rock
Year:
2002
Format:
FLAC (image + .cue)
Bitrate:
lossless
Covers:
full (600 DPI)
Amount of tracks:
12
Size ZIP:
~ 406 mb
Upload:
nitroflare.com
Password:
without a password
Comfort in Sound is the fourth studio album by the Welsh rock band Feeder, released on 21 October 2002 and also the first to be released by the band after the suicide of drummer Jon Lee earlier in the year. The album was recorded at RAK Studios in London during most of 2002, and was produced by Gil Norton.
The band returned to live performance after Lee's suicide, playing low-key slots at various festivals in the United Kingdom, before releasing the single "Come Back Around" and then the album. Three further singles—"Just the Way I'm Feeling", "Forget About Tomorrow" and "Find the Colour"—followed the album's release. The album received positive reviews from the music press and was received well by the public, reaching number six on the UK Albums Chart. Although charting one place lower than predecessor Echo Park, Comfort in Sound had a much stronger chart run of 36 weeks on the weekly top 75 album chart, in comparison to the nine weeks of Echo Park.
Tracklist:
-----------------
01.
Feeder - Just The Way I'm Feeling
[4:23]
02.
Feeder - Come Back Around
[3:13]
03.
Feeder - Helium
[3:15]
04.
Feeder - Child In You
[3:28]
05.
Feeder - Comfort In Sound
[3:47]
06.
Feeder - Forget About Tomorrow
[3:51]
07.
Feeder - Summer's Gone
[4:50]
08.
Feeder - Godzilla
[2:06]
09.
Feeder - Quick Fade
[4:24]
10.
Feeder - Find The Colour
[3:57]
11.
Feeder - Love Pollution
[4:14]
12.
Feeder - Moonshine
[6:49]
--------------------------
Total time [00:48:17]

"Log EAC"

"Dynamic Range Meter"

"Log Audiochecker"
--NitroFlare.com--
Cкачать CD | Download CD