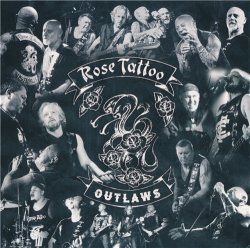 Performer:
Rose Tattoo
Album:
Outlaws
Label:
Cleopatra Records. Made in US.
Catalog #:
CLO 1544
Style:
Hard Rock
Year:
2020
Format:
FLAC (image + .cue)
Bitrate:
lossless
Covers:
in archive
Amount of tracks:
13
Size ZIP:
~ 534 mb
Upload:
nitroflare.com
Password:
without a password
It's been thirteen years since Rose Tattoo last released a studio album, so it seems fitting that with such a star-studded line-up now performing alongside Angry Anderson, this incarnation of the band should get something down in the recording studio that manages to capture the magic that has been pleasuring audiences, not just here in Australia but also in Europe & the UK over the last couple of years. It's hard to believe that Rose Tattoo's 1978 self-titled debut album, which was also titled 'Rock n Roll Outlaw' in some countries, would leave the imprint it has and so the band managed to spend some of 2019 locked away in a Sydney studio to re-record that debut album and the results are quite stunning. Added to the track listing of firm favourites are three previously unreleased songs that were only ever demoed back in the day, which give fans something new to hear.
Tracklist:
-----------------
01.
Rose Tattoo - One of The Boys
[4:14]
02.
Rose Tattoo - Sweet Love (Rock N Roll)
[4:23]
03.
Rose Tattoo - Tramp
[2:44]
04.
Rose Tattoo - Snow Queen
[5:46]
05.
Rose Tattoo - Rock 'N' Roll Outlaw
[6:57]
06.
Rose Tattoo - The Butcher And Fast Eddy
[7:20]
07.
Rose Tattoo - Remedy
[3:12]
08.
Rose Tattoo - TV
[2:28]
09.
Rose Tattoo - Stuck On You
[4:29]
10.
Rose Tattoo - Astra Wally
[4:09]
11.
Rose Tattoo - Bad Boy For Love
[7:02]
12.
Rose Tattoo - Nice Boys
[6:17]
13.
Rose Tattoo - Rosetta
[3:53]
--------------------------
Total time [01:02:16]

"Log EAC"

"Dynamic Range Meter"

"Log Audiochecker"
--NitroFlare.com--
Cкачать CD | Download CD