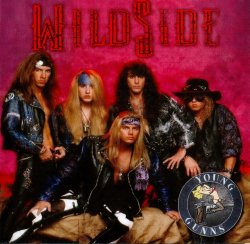 Performer:
Wildside
Album:
Formerly Known As Young Gunns
Label:
FnA Records. Made in US.
Catalog #:
247265-142-2
Style:
Hard Rock, Glam Rock
Year:
2020
Format:
FLAC (image + .cue)
Bitrate:
lossless
Covers:
full (300 DPI)
Amount of tracks:
15
Size ZIP:
~ 468 mb
Upload:
nitroflare.com
Password:
without a password
In 1988, at the pinnacle of the "Hollywood Hair Metal" craze, WILDSIDE, then called YOUNG GUNNS, was formed by guitarist Benny Rhynedance and singer Drew Hannah. Both were 1986 hair metal transplants from the pre-grunge Seattle music scene, which in 1986, did not exist yet.
By 1988 in Los Angeles, after slugging it out for two years in the LA club scene as glam rockers Rogue and enduring the Hollywood "Pay to Play" club promoter rip-off, Benny and Drew disbanded their original Seattle band. They then formed THE BOYZ, which became YOUNG GUNNS, and recruited second guitarist Brent Woods from the Sunset Strip band ALRISHA, and bassist Marc Simon from local heroes ST. VALENTINE. The lineup was soon completed with the addition of drummer Johnny Dean, but he soon left the band.
The guys searched for a permanent drummer and dominated the Sunset Strip and the Whisky-A-Go-Go on the weekly Monday night "No Bozo Jam" shows. After a year and a half of "false starts and flakes," they found ex-NRG and KANE ROBERTS drummer Jimmy D. from San Bernardino, CA to finally complete the classic lineup.
This is when the hard work truly began. With a solid lineup, the band began an all-out assault on Hollywood. Sold out shows followed at the Roxy, Whisky, Troubadour, Gazzarri's, and X-Poseur 54. Front page covers on all of the LA rock press magazines arose, and record labels began to take notice.
Diligently writing and rehearsing in their shared Hollywood gigs, the boys played endlessly throughout 1988-1989. When they weren't ripping through impassioned sets, they were putting up flyers on every telephone pole in town. Their self-determination turned self-promotion into an art form and soon the band's name was on everyone's lips.
However, the band needed to eventually change their name. Originally known as YOUNG GUNNS between '88 to '90, the producers of a western film using a similar title (released incidentally after the band was already well on its way) from Lionsgate Studios and Artisan Entertainment issued a series of cease and desist warnings and wanted $350,000 for the rights to the name.
After another late night Sunset Strip gig, while the guys were afterwards at the Rainbow bar, the name WILDSIDE was thrown around and seemed to fit their lifestyle perfectly, while being inspired by the Lou Reed song of the same name.
With their new name, a new phase of the band history was about to begin. But, that's another story…
Tracklist:
-----------------
01.
Wildside - I'm gonna get you
[4:28]
02.
Wildside - Easy as 1-2-3
[4:16]
03.
Wildside - Little piece of heaven
[3:28]
04.
Wildside - Cold December morning
[4:34]
05.
Wildside - Bad bad girl
[3:38]
06.
Wildside - Sweet little sinner
[3:49]
07.
Wildside - City of love
[5:03]
08.
Wildside - One touch
[5:02]
09.
Wildside - Dance - swing
[4:36]
10.
Wildside - Hot love
[4:24]
11.
Wildside - All over you
[3:37]
12.
Wildside - Can't stop
[3:13]
13.
Wildside - Here in the dak
[4:15]
14.
Wildside - Do you want love
[4:06]
15.
Wildside - Senorita
[3:21]
--------------------------
Total time [01:01:51]

"Log EAC"

"Dynamic Range Meter"

"Log Audiochecker"
--NitroFlare.com--
Cкачать CD | Download CD