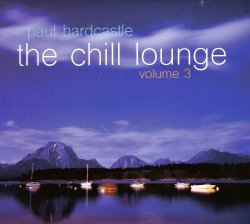 Performer:
Paul Hardcastle
Album:
The Chill Lounge Vol. 3
Label:
Trippin 'N' Rhythm Records. Made in US.
Catalog #:
TNR79
Style:
Jazz, Smooth Jazz, Disco, Chill'n'Lounge, New Age
Year:
2015
Format:
FLAC (image + .cue)
Bitrate:
lossless
Covers:
full (96 DPI)
Amount of tracks:
12
Size ZIP:
~ 483 mb
Upload:
nitroflare.com
Password:
without a password
I have all three of Paul Hardcastle's Chill Lounge CD's and in my opinion, this is his best yet! I hope he does more Chill Lounge albums. Besides these three albums, I have several others and love all of them! I only discovered his music several years ago, and loved it from the first listen! On this CD, I love the remix of "Desire", and this is better than the original version that I have on the album of the same name. I've been reading up on Paul Hardcastle on the internet and never realized he has done so much music! He is one of the best smooth jazz artists out there! I hope he releases more music for years to come! Besides enjoying his music, it has gotten me through some hard times in the past year. I put on one of his albums and I forget what was troubling me!
Tracklist:
-----------------
01.
Paul Hardcastle - Desire
[5:32]
02.
Paul Hardcastle - Unlimited Love
[7:13]
03.
Paul Hardcastle - Don't You Know
[6:04]
04.
Paul Hardcastle - Exploring the Deep
[5:45]
05.
Paul Hardcastle - Better Now
[4:10]
06.
Paul Hardcastle - Where I Wanna Be
[7:21]
07.
Paul Hardcastle - Peace on Earth
[5:41]
08.
Paul Hardcastle - Neon Adventure
[4:59]
09.
Paul Hardcastle - On the Run
[5:13]
10.
Paul Hardcastle - Fireflies
[5:56]
11.
Paul Hardcastle - Guess I'll Never Know
[5:23]
12.
Paul Hardcastle - Fade Away
[1:19]
--------------------------
Total time [01:04:37]

"Log EAC"

"Dynamic Range Meter"

"Log Audiochecker"
--NitroFlare.com--
Cкачать CD | Download CD