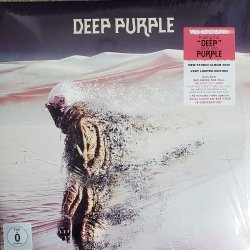 Performer:
Deep Purple
Album:
Whoosh!
Label:
Ear Music. Made in DE.
Catalog #:
0214763EMU
Style:
Hard Rock, Classic Rock
Year:
2020
Bitrate Vinyl Rip:
32bit/192kHz Stereo
Format:
FLAC (image + .cue)
Covers:
only front
Amount of tracks:
13
Size ZIP:
~ 1.95 gb
Upload:
nitroflare.com
Password:
without a password
Whoosh! is the twenty-first studio album by English rock band Deep Purple, released on 7 August 2020.
The group collaborated with producer Bob Ezrin, who had also worked for their previous two albums. They enjoyed the recording and production. Its release was promoted by a series of press statements from singer Ian Gillan, such as "Another album?! Whoosh?!! Gordon Bennett!!!". He explained the album's title was chosen for its onomatopoeic qualities, and "when viewed through one end of a radio-telescope, describes the transient nature of humanity on Earth". He also said fans should simply listen to the album as an enjoyable experience.
Tracklist:
-----------------
01.
Deep Purple - Throw My Bones
[3:40]
02.
Deep Purple - Drop The Weapon
[4:23]
03.
Deep Purple - We're All The Same In The Dark
[3:44]
04.
Deep Purple - Nothing At All
[4:44]
05.
Deep Purple - No Need To Shout
[3:32]
06.
Deep Purple - Step By Step
[3:34]
07.
Deep Purple - What The What
[3:35]
08.
Deep Purple - The Long Way Round
[5:41]
09.
Deep Purple - The Power Of The Moon
[4:09]
10.
Deep Purple - Remission Possible
[1:38]
11.
Deep Purple - Man Alive
[5:36]
12.
Deep Purple - And The Address
[3:35]
13.
Deep Purple - Dancing In My Sleep
[3:52]
--------------------------
Total time [00:51:43]

"Used Equipment"

"Dynamic Range Meter"

"Amplitude Frequency Spectrum"
--NitroFlare.com--
Cкачать LP | Download LP