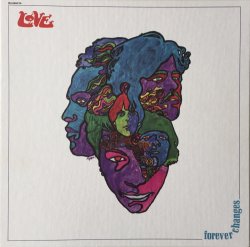 Performer:
Love
Album:
Forever Changes
Label:
Elektra, Rhino Records. Made in EU.
Catalog #:
R2 565276 / 603497862634
Style:
Psychedelic Rock
Year:
2018
Bitrate Vinyl Rip:
24bit/192kHz Stereo
Format:
FLAC (image + .cue)
Covers:
in archive
Amount of tracks:
11
Size ZIP:
~ 1.62 gb
Upload:
nitroflare.com
Password:
without a password
Forever Changes is the third studio album by the American rock band Love, released by Elektra Records in November 1967. It was the final album recorded by the original band lineup; after its completion, Bryan Maclean left the group acrimoniously and the other members were dismissed by leader Arthur Lee. The album saw the group embrace a subtler, folk-oriented sound and orchestration, while primary songwriter Lee explored darker themes alluding to mortality and his creeping disillusionment with the 1960s counterculture.
Tracklist:
-----------------
01.
Love - Alone Again Or
[3:15]
02.
Love - A House Is Not a Motel
[3:34]
03.
Love - Andmoreagain
[3:20]
04.
Love - The Daily Planet
[3:31]
05.
Love - Old Man
[3:00]
06.
Love - The Red Telephone
[4:42]
07.
Love - Maybe the People Would Be the Times or Between Clark and Hilldale
[3:34]
08.
Love - Live and Let Live
[5:26]
09.
Love - The Good Humor Man He Sees Everything Like This
[3:07]
10.
Love - Bummer in the Summer
[2:23]
11.
Love - You Set the Scene
[6:49]
--------------------------
Total time [00:42:41]

"Used Equipment"

"Dynamic Range Meter"

"Amplitude Frequency Spectrum"
--NitroFlare.com--
Cкачать LP | Download LP