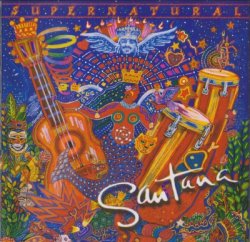 Performer:
Santana
Album:
Supernatural
Label:
Arista. Made in EU.
Catalog #:
07822 19080 2
Style:
Blues Rock, Classic Rock
Year:
1999
Format:
FLAC (image + .cue)
Bitrate:
lossless
Covers:
full (600 DPI)
Amount of tracks:
13
Size ZIP:
~ 598 mb
Upload:
nitroflare.com
Password:
without a password
Supernatural is the eighteenth studio album by Latin rock band Santana, released on June 15, 1999 on Arista Records. After the group found themselves without a label in the mid-1990s, founding member and guitarist Carlos Santana began talks with Arista president Clive Davis, who first signed the group in 1969, which led to a new record deal. The pair collaborated with A&R man Pete Ganbarg on the production of Supernatural as Santana wanted to focus his musical direction towards pop and radio friendly material and proceeded to do so by collaborating with various contemporary guest artists, including Eric Clapton, Rob Thomas, Eagle-Eye Cherry, Lauryn Hill, Dave Matthews, Maná, KC Porter and Cee-Lo Green.
Tracklist:
-----------------
01.
Santana - (Da Le) Yaleo
[5:54]
02.
Santana - Love Of My Life (Featuring Dave Matthews)
[5:48]
03.
Santana - Put Your Lights On (Featuring Everlast)
[4:45]
04.
Santana - Africa Bamba
[4:43]
05.
Santana - Smooth (Featuring Rob Thomas)
[4:58]
06.
Santana - Do You Like The Way (Featuring Lauryn Hill & Cee-Lo)
[5:55]
07.
Santana - Maria Maria (Produced By Wyclef Jean & Jerry 'Wonder' Duplessis)
[4:23]
08.
Santana - Migra
[5:29]
09.
Santana - Corazon Espinado (Featuring Mana)
[4:36]
10.
Santana - Wishing It Was (Featuring Eagle-Eye Cherry)
[4:53]
11.
Santana - El Farol
[4:51]
12.
Santana - Primavera
[6:19]
13.
Santana - The Calling (Featuring Eric Clapton)
[12:28]
--------------------------
Total time [01:15:00]Notes:
=====================
℗ & © 1999 Arista Records, Inc.
Distributed by the local BMG company. A unit of BMG entertainment. All trademarks and logos are protected.
Made in the EU.

"Log EAC"

"Dynamic Range Meter"

"Log Audiochecker"
--NitroFlare.com--
Cкачать CD | Download CD