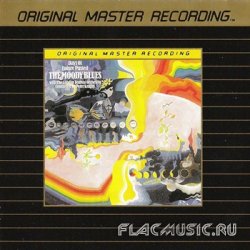 Performer:

The Moody Blues

Album:

Days Of Future Passed

Label:

®+© 1967 DERAM/Polydor/MFSL Gold disc. Made in USA.

Catalog #:

UDCD-512 (015775151222)

Style:

Art Rock, Psychedelic Rock, Symphonic Rock

Year:

1967 (1989)

Format:

FLAC (image +.cue)

Bitrate:

lossless

Covers:

in archive

Amount of tracks:

7

Size RAR:

~ 227 mb

Upload:

depositfiles.com, letitbit.net, turbobit.net

Recovery:

3%

Password:

without a password

Tracklist:

----------------------

01. The Day Begins [0:05:55.05]

02. Dawn: Dawn Is A Feeling [0:03:48.50]

03. The Morning: Another Morning [0:03:55.55]

04. Lunch Break: Peak Hour [0:05:29.25]

05. The Afternoon: Forever Afternoon (Tuesday?) [0:08:23.08]

06. Evening: The Sun Set: Twilight Time [0:06:39.70]

07. The Night: Nights In White Satin [0:07:24.57]

-----------------------------------------

Total Time: [0:41:36.45]Notes:
=========*

The Moody Blues with The London Festival Orchestra conducted by Peter Knight

.

*Album originally released November 10, 1967.

*The original packaging credited the orchestral parts to "Redwave/Knight". The packaging failed to give titles or credits for Graeme Edge's poems "Morning Glory" and "Late Lament".

In 1978 the album was remixed because of deterioration of the master tapes. The original 1967 stereo mix, which is generally considered superior by fans, has never seen a CD release. All CD versions, even remasters, use the later mix. The album was remixed into quadraphonic in 1972, and into 5.1 surround sound for the 2006 Deluxe Edition SACD.

*Ultradisc II™ 24 KT Gold CD from Mobile Fidelity Sound Lab "Original Master Recording" collection.

"Log EAC"

"auCDtect"

--DepositFiles.com--
Скачать | Download
--LetitBit.net--
Скачать | Download
--TurboBit.net--
Скачать | Download