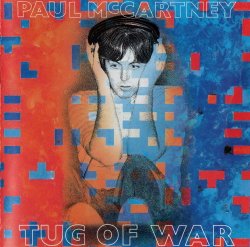 Performer:
Paul McCartney
Album:
Tug Of War
Label:
Parlophone, EMI. Made in JP.
Catalog #:
CDP 7460572,
Style:
Rock
Year:
1985
Format:
FLAC (image + .cue)
Bitrate:
lossless
Covers:
full (600 DPI)
Amount of tracks:
12
Size ZIP:
~ 330 mb
Upload:
nitroflare.com
Password:
without a password
Tug of War is the third solo studio album by English musician Paul McCartney, released in April 1982. It was McCartney's first album released after the dissolution of Wings the previous year. Overall, it was his 11th album since the break up of the Beatles. It was also McCartney's first album after the murder of former songwriting partner John Lennon. The album was produced by former Beatles producer George Martin and was a number one hit in many countries, selling over one million copies in the United States in the year of its release. Some critics hailed it as a return to form for McCartney. The cover is an abstract oil painting by the artist Brian Clarke, a frequent McCartney collaborator, incorporating an over-painted transparency of a portrait of Paul taken by Linda McCartney. Its remastered deluxe edition received a nomination for Best Boxed or Special Limited Edition Package at the 2017 Grammy Awards.
Tracklist:
-----------------
01.
Paul McCartney - Tug Of War
[4:22]
02.
Paul McCartney - Take It Away
[4:15]
03.
Paul McCartney - Somebody Who Cares
[3:20]
04.
Paul McCartney - What's That You're Doing?
[6:22]
05.
Paul McCartney - Here Today
[2:29]
06.
Paul McCartney - Ballroom Dancing
[4:08]
07.
Paul McCartney - The Pound Is Sinking
[2:55]
08.
Paul McCartney - Wanderlust
[3:50]
09.
Paul McCartney - Get It
[2:29]
10.
Paul McCartney - Be What You See (Link)
[0:34]
11.
Paul McCartney - Dress Me Up As A Robber
[2:42]
12.
Paul McCartney - Ebony And Ivory
[3:44]
--------------------------
Total time [00:41:11]
--NitroFlare.com--
Cкачать CD | Download CD