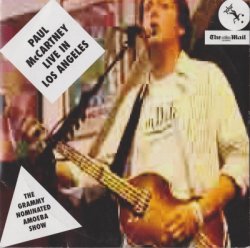 Performer:
Paul McCartney
Album:
Live in Los Angeles
Label:
MPL Communications, Upfront. Made in UK.
Catalog #:
UPPMCMOS01
Style:
Rock
Year:
2010
Format:
FLAC (image + .cue)
Bitrate:
lossless
Covers:
full (600 DPI)
Amount of tracks:
12
Size ZIP:
~ 320 mb
Upload:
nitroflare.com
Password:
without a password
Paul McCartney Live in Los Angeles is a promotional live album by Paul McCartney recorded during a secret performance at Amoeba Music in Hollywood, California, on 27 June 2007. The album was released only in the United Kingdom and Ireland through a special promotion run by The Mail on Sunday and the Irish Sunday Mail.
Tracklist:
-----------------
01.
Paul McCartney - Drive My Car
[2:33]
02.
Paul McCartney - Only Mama Knows
[3:54]
03.
Paul McCartney - Dance Tonight
[3:09]
04.
Paul McCartney - C Moon
[3:22]
05.
Paul McCartney - That Was Me
[3:02]
06.
Paul McCartney - Blackbird
[2:37]
07.
Paul McCartney - Here Today
[2:38]
08.
Paul McCartney - Back In The USSR
[2:59]
09.
Paul McCartney - Get Back
[3:53]
10.
Paul McCartney - Hey Jude
[7:08]
11.
Paul McCartney - Lady Madonna
[3:12]
12.
Paul McCartney - I Saw Her Standing There
[3:33]
--------------------------
Total time [00:42:01]Notes:
-----------------------
"The Grammy Nominated Amoeba Show"

This CD was given away free with the British national newspaper, The Mail On Sunday.

"This has to be the most surreal gig ever. The management has asked me to point out no shoplifting please." Paul McCartney, June 27, 2007.

It was not your average gig, even by Paul McCartney standards: A free show, inside the mammoth Amoeba Music Hollywood record store, starring the former Beatle himself. A far cry from McCartney's usual stadium shows, the Amoeba gig was an up close and personal once-in-a-lifetime opportunity. In the packed audience, small children and grandparents rubbed elbows with the likes of Ringo Starr and Woody Harrelson, yet the moment McCartney dove into opener 'Drive My Car' the young and the old, the famous and the common person stood equally within the bond of song. This is what makes Paul McCartney such a huge presence His music seamlessly crosses over from generation to generation with each making his songs their own. Few things in this life can bring total strangers together as one. On a Wednesday summer night, at a record store in Hollywood, California, nearly one thousand people stood tall and sang 'Hey Jude' along with Sir Paul McCartney, and for a few moments everything was good in the world. No, it certainly was not your average gig, and those in attendance surely sensed Paul felt the same way. "I'd like to take a little moment to take this all in," he said. "I was there. I was there at Amoeba." Marcus Kagler, Hollywood.

1, 6, 8, 9, 10, 11, 12 published by Sony/ATV Music Publishing.
2, 3, 4, 5, 7 published by MPL Communications Ltd/Inc.

℗ & © 2007 MPL Communications Ltd under exclusive licence to StarCon LLC.
For promotional use only - not for resale.

Back cover & CD, organizations mentioned: 'Upfront', 'MPL', 'Respect The Value Of Music', and 'The Mail On Sunday'.
Total playing time: 42:00 (including various padding seconds between some tracks).

"Log EAC"

"Dynamic Range Meter"

"Log Audiochecker"
--NitroFlare.com--
Cкачать CD | Download CD