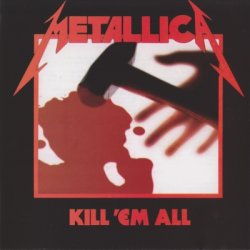 Performer:
Metallica
Album:
Kill 'Em All
Label:
Vertigo, Ukrainian Records. Made in UA.
Catalog #:
838 142-9
Style:
Hard Rock, Heavy Metal
Year:
1989
Format:
FLAC (image + .cue)
Bitrate:
lossless
Covers:
full (600 DPI)
Amount of tracks:
12
Size ZIP:
~ 368 mb
Upload:
nitroflare.com
Password:
without a password
Kill 'Em All is the debut studio album by the American heavy metal band Metallica, released on July 25, 1983, by the independent record label Megaforce Records. Kill 'Em All is regarded as a groundbreaking album for thrash metal because of its precise musicianship, which fuses new wave of British heavy metal riffs with hardcore punk tempos. The album's musical approach and lyrics were markedly different from rock's mainstream of the early 1980s and inspired a number of bands who followed in similar manner. The album did not enter the Billboard 200 until 1986, when it peaked at number 155, following Metallica's commercial success with its third studio album Master of Puppets; the 1988 Elektra reissue peaked at number 120. Kill 'Em All was critically praised at the time of its release and in retrospect, and was placed on a few publications' best album lists. It was certified 3× Platinum by the Recording Industry Association of America (RIAA) in 1999 for shipping three million copies in the United States. The album generated two singles, "Whiplash" and "Jump in the Fire".
Tracklist:
-----------------
01.
Metallica - Hit The Lights
[4:17]
02.
Metallica - The Four Horsemen
[7:13]
03.
Metallica - Motorbreath
[3:08]
04.
Metallica - Jump In The Fire
[4:42]
05.
Metallica - (Anesthesia)-Pulling Teeth
[4:15]
06.
Metallica - Whiplash
[4:09]
07.
Metallica - Phantom Lord
[5:02]
08.
Metallica - No Remorse
[6:27]
09.
Metallica - Seek & Destroy
[6:56]
10.
Metallica - Metal Militia
[5:11]
--------------------------
Total Time [00:51:20]
--NitroFlare.com--
Cкачать CD | Download CD