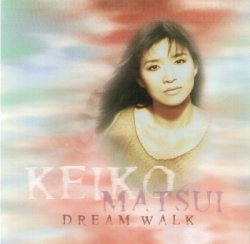 Performer:
Keiko Matsui
Album:
Dream Walk
Label:
Countdown Records. Made in US.
Catalog #:
17750-2
Style:
Jazz, Smooth Jazz
Year:
1996
Format:
FLAC (image + .cue)
Bitrate:
lossless
Covers:
full (300 DPI)
Amount of tracks:
10
Size ZIP:
~ 387 mb
Upload:
nitroflare.com
Password:
without a password
Taking a stroll through Keiko Matsui's musical hypnotherapy session Dream Walk is like entering a funhouse where all previous definitions of contemporary jazz are strikingly distorted, and invention walks on the wild side of East meets West. Crisp melodies have always been at the heart of the keyboardist's best work, only here they come at you as part of the mood, rather than the central theme. Only a handful of the keyboardist's tunes follow conventional linear melodic patterns throughout, and even these are so beautifully enhanced by sweeping orchestral and percussive invention that atmosphere and throbbing, raw twists ultimately win out over predictability. Equal credit for the newly aggressive approach goes to husband/producer Kazu Matsui, whose sonic wizardry surrounds Keiko's silky jazz and new age passageways with curious echoing flavors, enticing soundscapes where almost anything goes, and loose-fitting urban cool. Other out-there touches include Molly Pasutti's sweeping wordless vocals, bass samples by Marcus Miller and John Patitucci chosen over live bass, and Kazu's own shakuhachi. More typical excitement is provided by Paul Taylor's always warm soprano and alto musings.
Tracklist:
-----------------
01.
Keiko Matsui - Dream Walk
[4:48]
02.
Keiko Matsui - Bridge Over the Stars
[4:20]
03.
Keiko Matsui - Children of The Oasis
[4:38]
04.
Keiko Matsui - Fire In The Desert
[4:38]
05.
Keiko Matsui - Mask
[4:37]
06.
Keiko Matsui - Presence Of The Moon
[4:18]
07.
Keiko Matsui - Tribal Boat
[4:32]
08.
Keiko Matsui - A Cat On The Chimney
[4:34]
09.
Keiko Matsui - Passage
[4:25]
10.
Keiko Matsui - Valley
[4:23]
--------------------------
Total time [00:45:13]

"Log EAC"

"Dynamic Range Meter"

"Log Audiochecker"
--NitroFlare.com--
Cкачать CD | Download CD