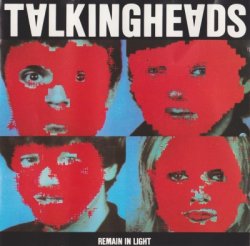 Performer:
Talking Heads
Album:
Remain In Light
Label:
Sire. Made in DE.
Catalog #:
256 867
Style:
Leftfield, New Wave, Indie Rock
Year:
1980
Format:
FLAC (image + .cue)
Bitrate:
lossless
Covers:
full (600 DPI)
Amount of tracks:
8
Size ZIP:
~ 259 mb
Upload:
nitroflare.com
Password:
without a password
Remain in Light is the fourth studio album by American rock band Talking Heads, released on October 8, 1980 by Sire Records. It was recorded at Compass Point Studios in the Bahamas and Sigma Sound Studios in Philadelphia between July and August 1980 and produced by longtime collaborator Brian Eno. Following the release of their previous album Fear of Music in 1979, the quartet and Eno sought to dispel notions of the band as a mere vehicle for frontman and songwriter David Byrne. Drawing on the influence of Nigerian musician Fela Kuti, the band experimented with African polyrhythms, funk, and electronics, recording instrumental tracks as a series of looping grooves. The sessions incorporated a variety of side musicians, including guitarist Adrian Belew, singer Nona Hendryx, and trumpet player Jon Hassell.
Tracklist:
-----------------
01.
Talking Heads - Born Under Punches (The Heat Goes On)
[5:49]
02.
Talking Heads - Crosseyed And Painless
[4:48]
03.
Talking Heads - The Great Curve
[6:28]
04.
Talking Heads - Once In A Lifetime
[4:23]
05.
Talking Heads - Houses In Motion
[4:33]
06.
Talking Heads - Seen And Not Seen
[3:25]
07.
Talking Heads - Listening Wind
[4:43]
08.
Talking Heads - The Overload
[6:01]
--------------------------
Total time [00:40:08]Notes:
=====================
Made in Hanover, West Germany by Polygram

"Log EAC"

"Dynamic Range Meter"

"Log Audiochecker"
--NitroFlare.com--
Cкачать CD | Download CD