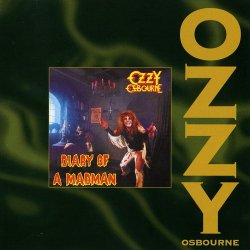 Performer:
Ozzy Osbourne
Album:
Diary Of A Madman
Label:
Epic, Sony Music. Made in AT.
Catalog #:
481677 2
Style:
Hard Rock, Heavy Metal
Year:
1995
Format:
FLAC (image + .cue)
Bitrate:
lossless
Covers:
full (360 DPI)
Amount of tracks:
8
Size ZIP:
~ 400 mb
Upload:
nitroflare.com
Password:
without a password
Beim Einspielen von Diary of a Madman musste sich die Band aufgrund der anstehenden Touraktivitäten beeilen. Dies ist dem Album anzumerken. So wurde etwa versäumt, die Version von Rhoads' Gitarrensolo in Little Dolls durch die eigentlich zur Veröffentlichung bestimmte zu ersetzen. Die Balladen wirken zum Teil länger als nötig. Kurz vor der Veröffentlichung des Albums wurden Bob Daisley (Bass) und Lee Kerslake (Schlagzeug), die es eingespielt hatten, durch Rudy Sarzo und Tommy Aldridge ersetzt. Letztere kamen auch auf das Albumcover. Auch der dort genannte Don Airey war laut Aussage Bob Daisleys in einem Interview nicht beteiligt, eingespielt habe die Keyboards Johnny Cook.
Tracklist:
-----------------
01.
Ozzy Osbourne - Over The Mountain
[4:32]
02.
Ozzy Osbourne - Flying High Again
[4:44]
03.
Ozzy Osbourne - You Can't Kill Rock And Roll
[7:00]
04.
Ozzy Osbourne - Believer
[5:17]
05.
Ozzy Osbourne - Little Dolls
[5:39]
06.
Ozzy Osbourne - Tonight
[5:50]
07.
Ozzy Osbourne - S.A.T.O.
[4:07]
08.
Ozzy Osbourne - Diary Of A Madman
[6:16]
--------------------------
Total time [00:43:25]

"Log EAC"

"Dynamic Range Meter"

"Log Audiochecker"
--NitroFlare.com--
Cкачать CD | Download CD