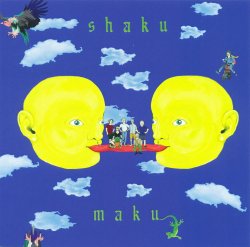 Performer:
Shaku
Album:
Maku
Label:
Self Released. Made in EU.
Catalog #:
none
Style:
Prog Rock, Jazz, Funk, Canterbury, Blues
Year:
2020
Format:
FLAC (image + .cue)
Bitrate:
lossless
Covers:
| full (600 DPI)
Amount of tracks:
8
Size ZIP:
~ 319 mb
Upload:
nitroflare.com
Password:
without a password
Leeds 6-piece frog-rock groovers Shaku have self released their debut album Maku, as the album is a divine representation of their creativity and musicianship which shines through even more so in their stellar live performances.
The group have a fantastic genre-fluid identity that sees them slip down the cracks between Canterbury scene prog, classic blues, funk-rock, UK jazz and epic old school rock. Having interviewed them back in May 2019, the band were ready back then to record after two years of relentless gigging, warfare, bloodshed and liquid consumption, and they did so live at The Nave Studios, Pudsey, and also in a living room in Burley. The theme of the album is a timeline of Shaku, covering a lot of musical and lyrical ground that each represent a different period in the band which has evolved over time, both together as a group and as individuals.
Tracklist:
-----------------
01.
Shaku - Explosive
[6:16]
02.
Shaku - Scraps
[7:03]
03.
Shaku - Still Hung Up
[4:17]
04.
Shaku - Wow
[0:39]
05.
Shaku - (J)as Per Usual
[8:13]
06.
Shaku - It'll Happen To You
[5:49]
07.
Shaku - Hotrod
[9:09]
08.
Shaku - Runnin' With My Baby
[4:50]
--------------------------
Total time [00:46:16]

"Log EAC"

"Dynamic Range Meter"

"Log Audiochecker"

"Amplitude Frequency Spectrum"
--NitroFlare.com--
Cкачать CD | Download CD